1h

Extended hour

160 EUR
*2h

*Min*- Escort Service & Erotic Massage Incl.

320 EUR
3h

Escort Service & Erotic Massage Incl.

460 EUR
4h

Escort Service - Erotic Massage - Dinner Date Incl.

600 EUR
5h

Escort Service & Party

710 EUR
8h

Overnight Sleeping

1,080 EUR
Couple Service

Hourly rate - Minimum 2h booking

250 EUR
+ Taxi fare

Radius of 50 Km

40 EUR

1h

Extended hour

186 USD
*2h

*Min*- Escort Service & Erotic Massage Incl.

372 USD
3h

Escort Service & Erotic Massage Incl.

535 USD
4h

Escort Service - Erotic Massage - Dinner Date Incl.

698 USD
5h

Escort Service & Party

826 USD
8h

Overnight Sleeping

1,257 USD
Couple Service

Hourly rate - Minimum 2h booking

291 USD
+ Taxi fare

Radius of 50 Km

47 USD

1h

Extended hour

153 GBP
*2h

*Min*- Escort Service & Erotic Massage Incl.

305 GBP
3h

Escort Service & Erotic Massage Incl.

439 GBP
4h

Escort Service - Erotic Massage - Dinner Date Incl.

572 GBP
5h

Escort Service & Party

677 GBP
8h

Overnight Sleeping

1,030 GBP
Couple Service

Hourly rate - Minimum 2h booking

238 GBP
+ Taxi fare

Radius of 50 Km

38 GBP

1h

Extended hour

170 CHF
*2h

*Min*- Escort Service & Erotic Massage Incl.

341 CHF
3h

Escort Service & Erotic Massage Incl.

490 CHF
4h

Escort Service - Erotic Massage - Dinner Date Incl.

639 CHF
5h

Escort Service & Party

757 CHF
8h

Overnight Sleeping

1,151 CHF
Couple Service

Hourly rate - Minimum 2h booking

266 CHF
+ Taxi fare

Radius of 50 Km

43 CHF
Amelia
AMELIA SWEET & EDUCATED
Hello and welcome to my profile. My name is Amelia and I am a sweet, gorgeous, educated woman who is at the beautiful age of 25. I have 75C cup sized breast and gorgeous curves. I have been working as an escort since I was 21. I am very passionate about my job and very dedicated to all my clients. In 4 years of working, I haven't received a single complaint from my customers. They are all happy, pleased and most of them are returning to me whenever they are in town or whenever they want to have some fun.
Remember that you are spending time with one of the most experienced companions in this field of work so don't be shy to ask me things, we will try them and you will be very pleased. Because I have such a great back experience, I know how to handle different types of people and I know how to make them forget about their daily routine. When you will be with me, you will enter a whole new world, a world filled with pleasure, fun and sexual intercourse.
I love to explore my sexuality and I like to think that all my clients like to do the same. Of course, most of them are very shy at our first meeting, but with some time that passes by, they will feel relaxed and they will start to enjoy our little, secret adventure on the fields of pleasure. Book me right now and you will not regret the choice that you have made.
Base City

Leiden

Age

25

Gender

Female

Sexual Orientation

Heterosexual

Drinking

No

Smoking

No

Languages

English

Available for

Men
Eye Color

Blue

Hair Color

Brunette

Hair Lenght

Long

Breast Type

Natural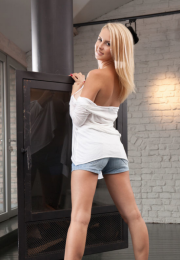 Simonna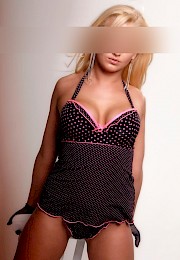 Jana