1h

Extended hour

160 EUR
*2h

*Min*- Escort Service & Erotic Massage Incl.

320 EUR
3h

Escort Service & Erotic Massage Incl.

460 EUR
4h

Escort Service - Erotic Massage - Dinner Date Incl.

600 EUR
5h

Escort Service & Party

710 EUR
8h

Overnight Sleeping

1,080 EUR
Couple Service

Hourly rate - Minimum 2h booking

250 EUR
+ Taxi fare

Radius of 50 Km

40 EUR

1h

Extended hour

186 USD
*2h

*Min*- Escort Service & Erotic Massage Incl.

372 USD
3h

Escort Service & Erotic Massage Incl.

535 USD
4h

Escort Service - Erotic Massage - Dinner Date Incl.

698 USD
5h

Escort Service & Party

826 USD
8h

Overnight Sleeping

1,257 USD
Couple Service

Hourly rate - Minimum 2h booking

291 USD
+ Taxi fare

Radius of 50 Km

47 USD

1h

Extended hour

153 GBP
*2h

*Min*- Escort Service & Erotic Massage Incl.

305 GBP
3h

Escort Service & Erotic Massage Incl.

439 GBP
4h

Escort Service - Erotic Massage - Dinner Date Incl.

572 GBP
5h

Escort Service & Party

677 GBP
8h

Overnight Sleeping

1,030 GBP
Couple Service

Hourly rate - Minimum 2h booking

238 GBP
+ Taxi fare

Radius of 50 Km

38 GBP

1h

Extended hour

170 CHF
*2h

*Min*- Escort Service & Erotic Massage Incl.

341 CHF
3h

Escort Service & Erotic Massage Incl.

490 CHF
4h

Escort Service - Erotic Massage - Dinner Date Incl.

639 CHF
5h

Escort Service & Party

757 CHF
8h

Overnight Sleeping

1,151 CHF
Couple Service

Hourly rate - Minimum 2h booking

266 CHF
+ Taxi fare

Radius of 50 Km

43 CHF
Laura
Beautiful busty escort ready to fulfill your deepest fetish
Hi, my name is Laura and I am a former professional model. Now I work as an escort for one of the greatest agencies in Netherlands.
My amazingly shaped body has wonderful curves which will make you go crazy when you will touch them. My C cup breasts, my 168 cm height and my 54 kg, combined with deep brown eyes and brown hair will make me the perfect escort for tonight.
I might say about myself that I am a guru massage and that I love practicing and offering one of the best massages you have ever received. I have so many techniques and every one of them is unique so I am sure I will find the perfect way to make you more relaxed after a hard day at work or after some hard months full of stress. My favorite type of massage is body to body massage combined with a session of sexy, sensual striptease.
I will also provide to you light BDSM or maybe Threesome if that's what you want. All you have to do is relax and let me (or us) take care of you. You will have a wonderful time and you will never regret your time spent with me. We could also do a little role-playing... you can check here some role-play ideas.
I will offer you a very intimate, inventive experience and you will not get bored during our special time.
Pick up the phone and call me right now. I am ready to give you my all!
| | |
| --- | --- |
| Base City: | Leiden, Cities |
| Gender: | Female |
| Sexual Orientation: | Heterosexual |
| Eye Color: | Black |
| Hair Color: | Brown |
| Drinking: | No |
| Smoking: | No |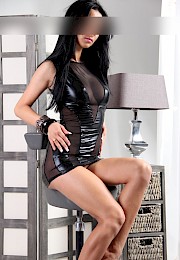 Celia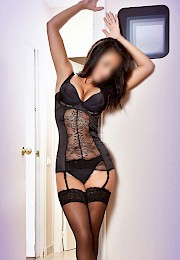 Emilia