1h

Extended hour

160 EUR
*2h

*Min*- Escort Service & Erotic Massage Incl.

320 EUR
3h

Escort Service & Erotic Massage Incl.

460 EUR
4h

Escort Service - Erotic Massage - Dinner Date Incl.

600 EUR
5h

Escort Service & Party

710 EUR
8h

Overnight Sleeping

1,080 EUR
Couple Service

Hourly rate - Minimum 2h booking

250 EUR
+ Taxi fare

Radius of 50 Km

40 EUR

1h

Extended hour

186 USD
*2h

*Min*- Escort Service & Erotic Massage Incl.

372 USD
3h

Escort Service & Erotic Massage Incl.

535 USD
4h

Escort Service - Erotic Massage - Dinner Date Incl.

698 USD
5h

Escort Service & Party

826 USD
8h

Overnight Sleeping

1,257 USD
Couple Service

Hourly rate - Minimum 2h booking

291 USD
+ Taxi fare

Radius of 50 Km

47 USD

1h

Extended hour

153 GBP
*2h

*Min*- Escort Service & Erotic Massage Incl.

305 GBP
3h

Escort Service & Erotic Massage Incl.

439 GBP
4h

Escort Service - Erotic Massage - Dinner Date Incl.

572 GBP
5h

Escort Service & Party

677 GBP
8h

Overnight Sleeping

1,030 GBP
Couple Service

Hourly rate - Minimum 2h booking

238 GBP
+ Taxi fare

Radius of 50 Km

38 GBP

1h

Extended hour

170 CHF
*2h

*Min*- Escort Service & Erotic Massage Incl.

341 CHF
3h

Escort Service & Erotic Massage Incl.

490 CHF
4h

Escort Service - Erotic Massage - Dinner Date Incl.

639 CHF
5h

Escort Service & Party

757 CHF
8h

Overnight Sleeping

1,151 CHF
Couple Service

Hourly rate - Minimum 2h booking

266 CHF
+ Taxi fare

Radius of 50 Km

43 CHF
Maria
MARIA HOT & SWEET
Buongiorno, signori! My name is Maria, a sweet, innocent looking lady, native from the beautiful lands of Italy. I am 25 years old, my hair is long, brown, and soft, my eyes are hazel brown; I am 167 cm tall and I weight only 52 kg. My cute 75A cup sized breasts are the best thing about me, they feel so soft when they are touched and they are definitely made for delicate touches like you have.
My top three services are Dominant, Erotic Massage and SM. I love to offer a great session of BDSM because I like to obey and punish people. I choose to specialize in BDSM because I was passionate about this form of art since I was a teenager and I couldn't wait to become one of the best dominant mistresses in the whole world. To be honest with you, this was my dream and when I was 19 years old, I got this opportunity to fulfill my dream and now I get to work as I have always wished.
Being in this field for such a long time, I managed to learn a lot of languages such as English, Dutch and Italian, of course. Don't worry about language barrier, there will be none. We will understand each other and I will be your best dominant that you have ever met. My whole body is waiting for you, my mind as well. Book me right now in order to have the best adventure on the fields of pleasure.
| | |
| --- | --- |
| Base City: | Leiden, Cities |
| Gender: | Female |
| Sexual Orientation: | Heterosexual |
| Eye Color: | Black |
| Hair Color: | Brown |
| Drinking: | No |
| Smoking: | No |
Mario van D.

Spent very passionate moments in the company of Maria. 100% satisfied and would recommend her!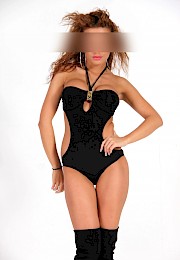 Celine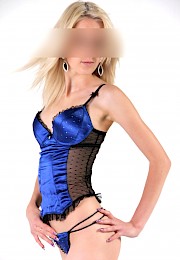 Alice